Women know the importance of cleansing, toning, and moisturising their face. On the other hand, all those words do not make any sense to men. Most of the time, when someone asks a man what he uses to wash his face, the majority would either say water or some store bought men facial care product. Men skin care is taken quite lightly, which is why sometimes there are gents who don't have the best complexion.
Unlike women who can spend lots of money on facial treatments, facial for men is hardly ever considered likely because they do not see the importance of men facial care.Men facial treatments come in a wide selection, and depending on what you need, there is certainly a treatment that you can benefit from.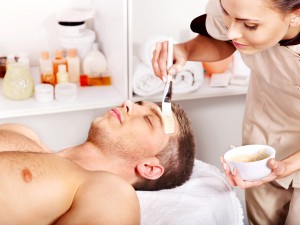 Face treatment for men have many benefits, and not only having acne-free complexion, but also acts as anti-aging for men. Other than complexion, some men have bulgy eyes because of lack of sleep. Certain skincare for men can also aid in that to lift and revitalize the skin around the eye region.
Using normal soap is not the most ideal choice, as soaps on shelves tend to make the skin really dry. This is why there is hydrating facial skin treatment for men that helps in changing dry and dull skin into dewy and soft skin.
Skincare for men might not be the hottest topic that you and your guy friends might talk about over dinner. However, going for some treatment as a start will certainly not harm you, in fact you might be surprised with the results after a few treatments. If you're still hesitating and considering about whether you should try some facial treatments, the one thing you should know is that skincare for men is more effective if done earlier. Before your skin condition gets any worse, get it treated for more successful results!