Men are more prone to skin dullness and tanning than women, especially in a humid tropical country like Malaysia. Why? Simply because most men care less than women do when it come skin care and do not really emphasize on proper cleansing regimes. One of the main problems with tired skin is that it's lacking moisture, which in turn leaves it lacking energy and life. So what you would need in order to overcome this is a treatment that re-hydrates your skin to give it a plumped and fresh appearance, and at the same time provides your skin the necessary nutrients and minerals it needs to maintain that radiant appearance.
Men's Skin Centres by Bella has a new technology that helps to remove haggard looking dead skin cells to reveal the new, fresh complexion underneath. And there are no multiple sessions over weeks or months involved here, it's actually a very quick and bang-for-the-buck procedure.
Introducing the 95 minutes Essential Whitening Treatment for men by Men's Skin Centres. Originally priced at RM355, just for this Chinese New Year season, you could get this exclusive treatment at only RM88. Well equipped with state-of-the-art technologies, you will experience skincare like never before under the most comfortable and relaxing ambience at Men's Skin Centres. You could reach out to our outlets directly at the toll-free line or check out the website or social media sites.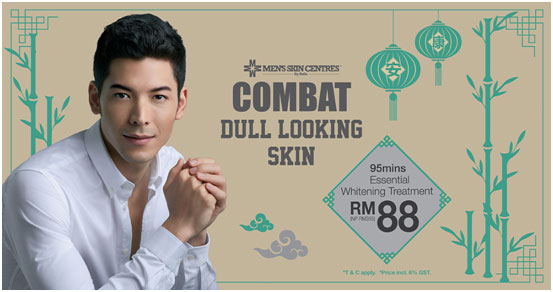 So just by buffing away the layers of dull looking skin through the right treatment we could offer you, you'll be left with the fresh faced glow that your visitors for the New Year would be impressed.
Adequate sleep daily is very important to maintain a healthy looking skin. But for many of us urbanites and from the working class group, we could hardly get more than 6 hours a day. When our body is faced with such environmental distresses, our cells would not be able to work at optimum levels, namely the production of melanin in your body when it comes to your skin.
Melanin is the human skin pigment which is responsible for colouration of your skin, and even your eyes and hair. You should know that colour of your skin and melanin production are directly proportional, and tanning and darkening of your skin is a result of increased melanin production. So what causes increase of melanin production? For urbanites like us these days, excessive melanin production could be caused by various reasons including hyper pigmentation, over exposure to the sun, skin problems from exposure to pollutants and allergens, malnutrition, vitamin deficiency, adrenal disorders, liver disorders, hormonal changes caused by environmental reasons and many more. Cells known as melanosomes and melanocytes will be filled with tyrosinase when stimulated by chemicals or UV rays or any of the aforesaid factors, which then stimulates and distribution of melanin. In turn, you skin will start turning duller and darker over time.
So what urban men need is a quick but worthy skin care solution such as the Essential Whitening Treatment for men by Men's Skin Centres. For just RM88, you could experience their latest technology that minimizes melanin production while maximizing skin rehydration. Immerse your skin into the most advanced yet relaxing treatment that inhibits melanin production while rehydrating your skin cells at the same time, giving you long lasting radiance and clarity that stays beyond the festive season. Just within one sitting under 100 minutes, you will see your skin change towards a fairer and more even tone, something that could only be achieved after several weeks or months using whitening products at home – at a fraction of the cost!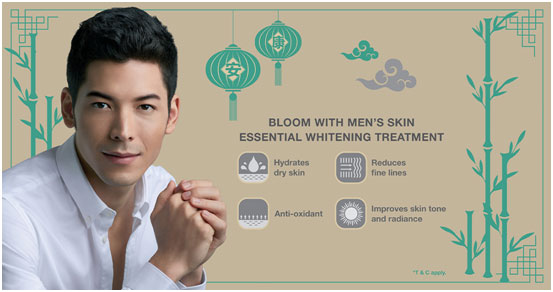 The Essential Whitening Treatment helps not only to hydrate your dry skin, but also to lighten pigmentation and reduces fine lines on your face. The treatment uses various products which are high in anti-oxidant and which could help your skin tone to become radiant and more even. In just below a hundred minutes, your skin would feel rejuvenated and invigorated from all the strain and pollution it has been exposed to over the past year, reborn with great lush and radiance for the coming Wood Dog year.
There are many ways in which you could combat dull looking skin; from lasers, using bleaching creams, and even using chemical peels. However not all methods could produce the desired results without identifying the actual cause of the problem. If you know you have not been taking care of your skin and been exposing it to dirt or pollutants over an extended period of time, and know that you still would not have time for extensive cleansing or whitening regimes, perhaps you might want to consider this exquisite Essential Whitening Treatment, for just RM88!