Hair removal used to be a habit that is strictly for females only, but now men invest more time and money on their personal appearance. As men opt for more personal grooming habits like skin care and body toning, it is not surprising that they will take an interest in body hair removal products and similar services that offer hair removal for men.
IPL hair removal has become popular to women in different regions across the globe. However, the need for the technological advancement of IPL hair removal increased in men's grooming routine. Intense Pulsing Light technology offers an advance, effective and safe hair removal process. It uses pulsing light that is transmitted to each hair follicle through melanin pigment. Heat is then used to disable the hair growth mechanism. [1] The procedure can take several sessions to achieve a perfectly hair free skin, with each session taking from several minutes to hours. Men are predominantly hairy because of their testosterone. This is the reason why it is recommended to use IPL for men, especially to men who want their chest hair and armpit hair removed.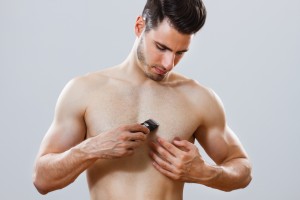 The use of traditional hair removal treatment and products has been overshadowed by IPL hair removal and other laser hair treatments. Many men are gradually recognizing the benefits of IPL hair removal than most traditional methods. Shaving and waxing may still remain as popular methods but they cause discomfort and are inefficient in comparison to IPL. Shaving is inexpensive, quick and easy but hair grows back quickly, since the roots of the hair were not cut. Using razor can also cut your skin and is a common problem to most men. Waxing on the other hand can be really painful. Hair is being ripped out of your skin and it can cause ingrown hairs. Some use hair removal creams to easily remove hair but bear in mind that these contain chemicals that can irritate your skin. You don't want your delicate areas becoming prickly, right? [2] IPL on the other hand is a permanent hair removal treatment that is less painful than waxing. Men would not even experience any razor burns, cuts or ingrown hairs. It may not be a quick solution to men's hair problems but it sure gives them a better fix that lasts longer than most traditional ways. [3]
Most men wouldn't have to undergo through excruciating shaving of chest hair and spend on variety of armpit hair removal just to attain that silky smooth skin. Why not try IPL?
At Men's Skin Centre's, we offer services that could help you jumpstart your men skin care routine. If you have been suffering from skin problems, the best way to begin your skin care would be a check up with a professional so that your skin is better assessed. At Men's Skin Centres we offer services such as facial for men and specialized face treatments for troubled skin. What's a better way to solve men facial problems than to consult with an expert? Click here to schedule a consultation now.
References:
[1] Men's Skin Centre.(n.d.). Hair Removal. Retrieved May 28, 2015, from http://www.menskincentre.com.my/hair_removal.php
[2] Abbie, J.(2013). Which is better: Waxing, Shaving or Laser? Hair Removal 101. Retrieved May 29, 2015, from http://dailymakeover.com/hair-removal-101/
[3] AOB Med Spa.(n.d.). IPL laser Hair Removal vs Shaving and Waxing: Which is better?. Retrieved May 29, 2015, from http://www.aobmedspa.com/201404/ipl-laser-hair-removal-vs-shaving-and-waxing-which-is-better/